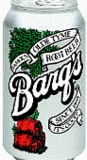 !!!This is Larry Eugene "The CanMan" Van Ness!!!
and this is his own special page

!!!!!!!
As with
Betty
, I believe that Larry is one of those very special angels who has come into my life during challenging times and will be somebody who will still be very special to me forever.
One difference, of course, between Larry and Betty is that I'm not crushing on Betty. L

L ...
In the case of Larry, I want to make it clear that the crush didn't come first -- it came later after the admiration, so I'm not just somebody with a crush on some guy and that crush has clouded my thinking so that I think that what he does is wonderful.
It's backwards from that:
I think that what he does is wonderful, so I've developed a very huge crush on him!!!
So, what exactly does Larry do?
For one thing, he loves to wave at people as they drive by his apartment house on North Broadway in North Anderson, Indiana. The waving makes both the people who honk/wave/often blow kisses/sometimes, stop to see him/occasionally, even take his picture and him feel good.
For another thing -- what he sees (right up there neck-to-neck with the waving) as his calling in life -- he collects aluminum tabs to donate to Indiana's own Ronald McDonald House in Indianapolis neighboring Riley Children's Hospital.
Larry also donates recyclables to local schools (Liberty Christian School and Valley Grove Elementary are his two main schools as of this writing on Tuesday, April 21, 2015) to help them with fundraising and other aspects of education.
Anyway, I'll be adding to this page often, but I want to include a couple of my most current writings about him here today...
http://www.bubblews.com/news/9908124-i-bet-he-looked-adorable-wish-i039d-been-there-with-my-camera
http://www.bubblews.com/news/9912628-my-latest-canman-discovery
This is enough to write for now, but Larry's page will keep on being added to, so please return and look for new additions!
(to be continued)...
I've recently gotten online at home -- which means that I will have more options for times when I can get online. I'll fill you in on the progress re: getting situated at a later time, but I wanted to go ahead and add my latest Larry post that I made at Bubblews a few days ago (when I still wasn't connected at home):
http://www.bubblews.com/posts/when-the-whole-world-became-pregnant
Sometime tonight, Larry and I will be talking, and I'll find out how many tabs away he is from his 11th million. When I talked to him last night (which would have been the first day of August), he was 282,760 tabs away. He hopes to have reached 11,000,000 by sometime in late November before the Christmas open house at Ronald McDonald House that will be on December 1 of this year.
(to be continued)...